A Safelist/Mailer is basically a community of Internet marketers who have joined to profit from one another by mutually exchanging marketing messages. Similar to a traffic exchange you will be viewing other members' ads in exchange for earning advertising credits. However, a significant difference is that unlike a traffic exchange, where you view ads on-site, a safelist/mailer requires you to "receive" and "open" individual "mailer" ads sent to you via email.


As you begin using more and more Safelist/Mailers the amount of email ads will begin to grow and grow. Each individual safelist/mailer is likely to deliver a few to a few dozen email ads per day
*** Separate Gmail/email account(s) just for Safelist/Mailer ads is IMPORTANT! ***

NOTE: Someone who is proficient using safelist mailers will often be sending ads using 50-100+ mailers each week.
Our FEATURED safelist mailer resource is…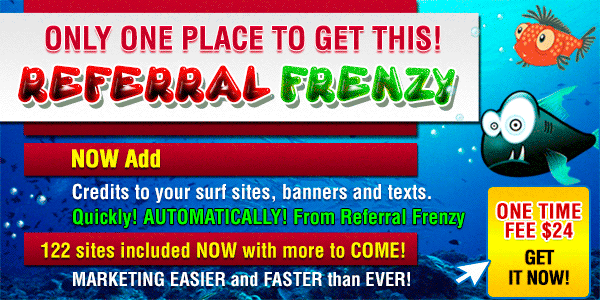 Click Here For More Info & Log In
Referral Frenzy is an absolute "must have" resource for anyone who is serious about maximizing how they leverage safelist mailer advertising. There is both a Free and Paid membership available. Upgraded members will have full access to all of the tools and resources, including managing credits and sending to all of the 100+ included mailers. For free members, Referral Frenzy serves as an excellent starting point to access/join 100+ mailers all in one location. That being said, Referral Frenzy has a lot going on.
More Top Safelists Not Yet Listed In Referral Frenzy…
Herculist


State Of The Art Mailer


Pangea


We Pay Commissions


Proits Lion


Adchiever


List Avail


Global Safelist


Mega Mail Boost


Email Marketing Masters